​I ​did not take French in high school. I went the practical route and took Spanish. I still say gracias "grassy ass", but that's not my fault. I learned Spanish (and English, for that matter) in Arkansas. I escaped Arkansas in 2012 and have never looked back.

I have lived in Los Angeles for 4 years. In my time here, I have heard of a magical land in West Hollywood where you can meet every celebrity and movie mogul of your dreams. This land sits atop a tower overlooking the LA skyline (whatever that is) and it's adjacent hills, and smells like lavender room spray and money. They call this land…SoHo House.
Powered by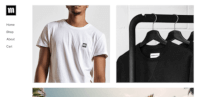 Create your own unique website with customizable templates.